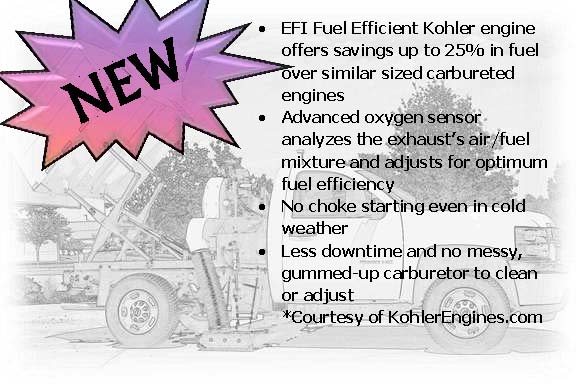 NEW PRODUCTS
Skavin'jer Sweepers presently offers two models of sweeper trucks, road sweepers, or parking lot sweepers.
High Dump 2.5 cubic yard model

End Dump 2.5 cubic yard model
Under consideration and starting to go to our engineering department is a 4 yard sweeper truck or road sweeper with our same famous unitized body design, 4 cubic yards capacity, internal dust separator, and a large dump door with inspection door also with our famous boomer style door retainer latches using the finest prime steel available coupled with our AWS certified welders. Naturally this sweeper truck or road sweeper will be painted inside and out with our famous powder coating procedure. Preliminary design and preliminary drawing ideas will have a large hydraulic lift cylinder with a unitized main frame and as standard with our other hydraulic units it will have a cylinder safety valve with up position adjustable size or links an adequate adjustable hopper stops.
Also on the drawing board is a new high yield steel sweeping head welded together by our certified AWS welders. All of the sweeping hoods are coupled with the strong drag skids made of tungsten carbide. With ample suction hose and blast hose and hydraulically actuated lift, our sweeping hoods naturally operate in the forward and reverse position. The engine at this particular juncture is still on the drawing board. However, it will certainly be the proper horse power, displacement and provide maximum torque to make the unit work outstanding. The blower housing under consideration is naturally of high yield steel abrasive resistant with rubber lined on the inside of the blower housing. The blower unit itself will be radial pressure turbine with our famous electronic balancing features. The truck at this particular juncture is open as to the type of road sweepers it will fit. Naturally with the other Skavin'jer street sweeper trucks we manufacture this new 4 yard unit will fit more than one truck.
Some of the optional equipment under consideration at this time are the additional curb broom, additional fresh air blower, shovel and broom holders, backpack blower storage, and open top tool box.